Preparing to connect stores to the marketplace
When setting up an external store to be connected to your Omnyfy Marketplace, there's still a few things that Omnyfy will need to do in order to help connect the store. This include some pre-requisites. One as such is creating a brands attribute and additional custom attributes (see more here
Fuse UI - Creating brand and custom product attributes for mapping
).
To set up a vendor with their own store, ensure that the marketplace attributes are configured, and that the vendor has been fully onboarded (sources / locations created etc). Then you can simply follow the steps below.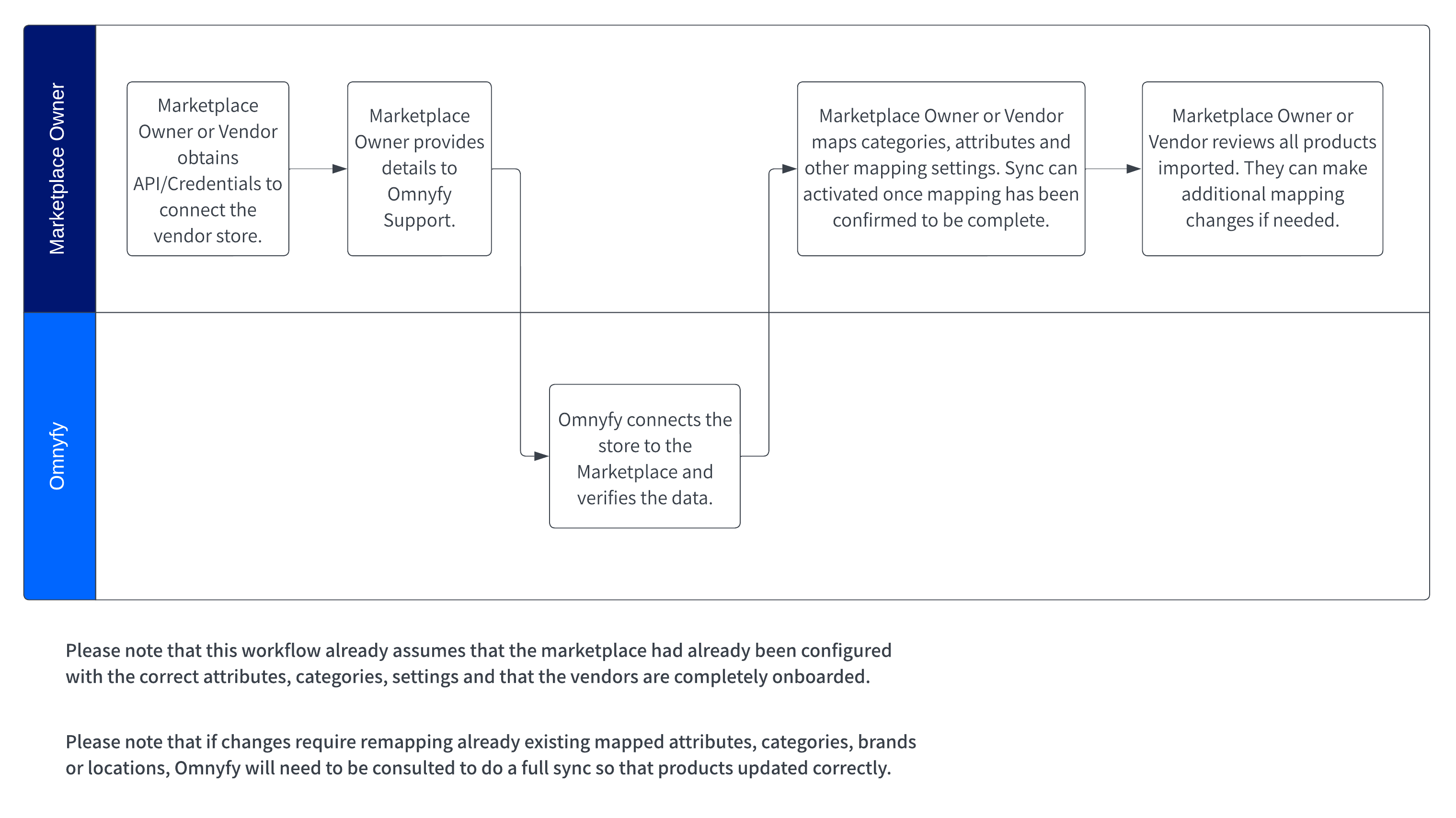 For the individual API / credentials required for specific stores, please see the connection steps below:

If you have any questions, please speak to your Omnyfy support team.
Related Articles

Connecting your Omnyfy Marketplace to Omnyfy Fuse

1. Go to the back end of your Marketplace, and select System 2. Select Extensions > Integrations from the fly out menu 3. Select Add New Integration from the top right 4. Populate the Name, Email and Your Password field (leave Callback URL and ...

What platforms can Omnyfy Fuse connect with?

Our Fuse integration can connect to a variety of different platforms, at varying degrees. Fuse supports Products and Shipments / Fulfilments inbound, and orders outbound from the vendor's store. See below. Our current implementation capabilities ...

Fuse UI - Attribute Checklist for Marketplace Owner

When creating an attribute, you can use the following checklist to ensure you have everything all set up correctly. The attribute required exists The attribute is configured for "Use for Fuse Data Mapping". This is found at the bottom of the ...

Fuse UI - Creating brand and custom product attributes for mapping

In order to import products with custom attributes (eg size, colour etc), those attributes will need to be enabled for Fuse mapping. If you're unsure about how to create product attributes, please review the guide - Create and manage Product ...

Connecting your BigCommerce Store to Omnyfy Fuse

To connect your BigCommerce store with Omnyfy Fuse, you will need to obtain your API information to Omnyfy. 1. First you will need to log in to BigCommerce with your account. 2. From the left menu, select Settings. 3. Scroll to the bottom of the ...