Omnyfy offers marketplace owners the ability to create Vendor Subscriptions that charge vendors a fee to participate on the marketplace. Vendor Subscriptions are created on Omnyfy using the Vendor Subscription module. Click here to learn how you can create a new Vendor Subscription.
To complete the creation of a Vendor Subscription, you need a Subscription Code from Stripe (Payment Gateway ID).
Follow the process below to create a new subscription in Stripe, then simply copy and paste in your Subscription Code into the newly created Vendor Subscription Plan in Omnyfy.
---
Adding a Subscription Product in Stripe
Log in to your Marketplace Owner Stripe account

Go to the left menu and select the Products main menu heading

Click on Add product on the top right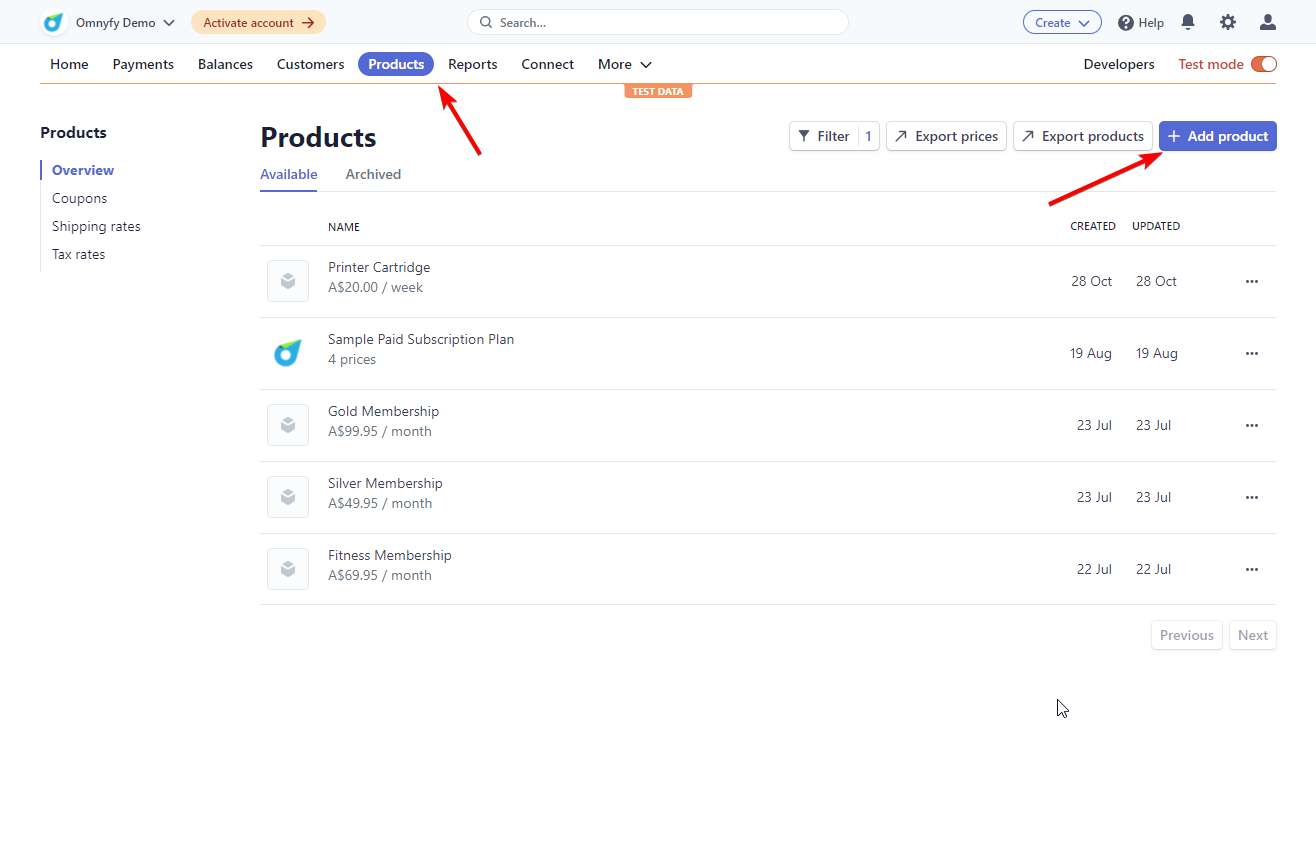 ---
Product Information
This is where you put the initial product descriptions. Note that this is different from your subscription plan tiers. You may have multiple plans, with each plan having different tiers - similar to Vendor Types EG:
Retailer Plan

Bronze Tier

Silver Tier

Gold Tier

Services Plan

Corporate Plan
Here you are creating the information for "Retailer Plan", "Services Plan", "Corporate Plan". The tiers are managed below. Note that if you are having different tiers with different billing intervals, you'd be best to create those as individual plans instead.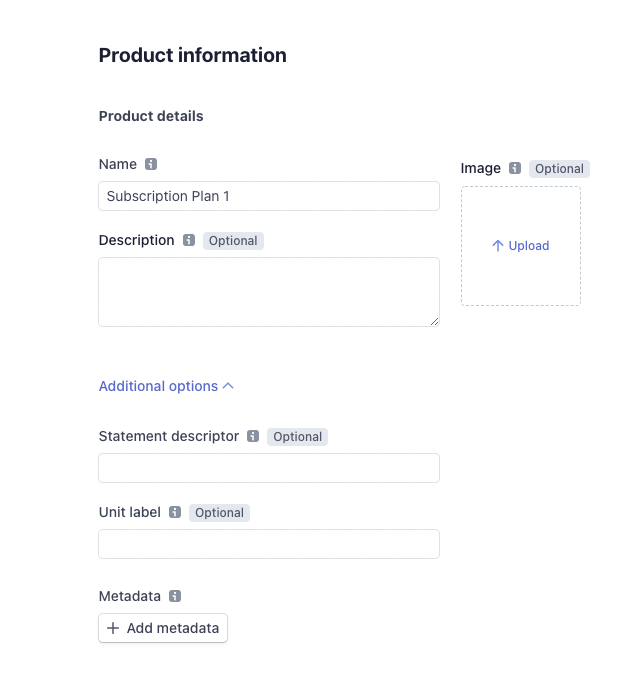 The metadata field can be ignored as this isn't used.
---
Pricing Information
This is the section you will manage the different tiers for each subscription plan. In the previous example:
Retailer Plan

Bronze Tier

Silver Tier

Gold Tier

Services Plan

Corporate Plan
This is where you manage the "Bronze Tier", "Silver Tier", "Gold Tier" from Retailer Plan, and "Tier 1", and "Tier 2" from Corporate Plan.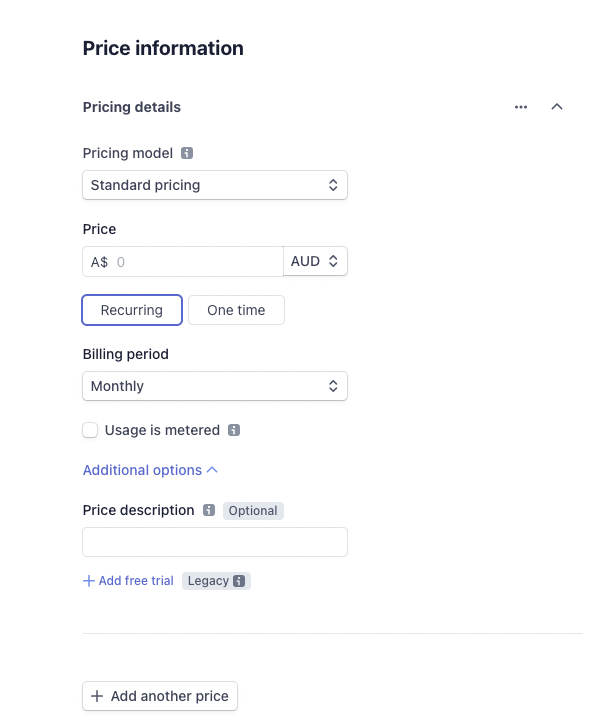 If your plan is going to have multiple tiers, you can simply select the + Add another price button to input another tier.
---
Adding the Payment Gateway ID to the Subscription Plans in Omnyfy
Once the Product and Pricing tier is created, you will see the Product information view.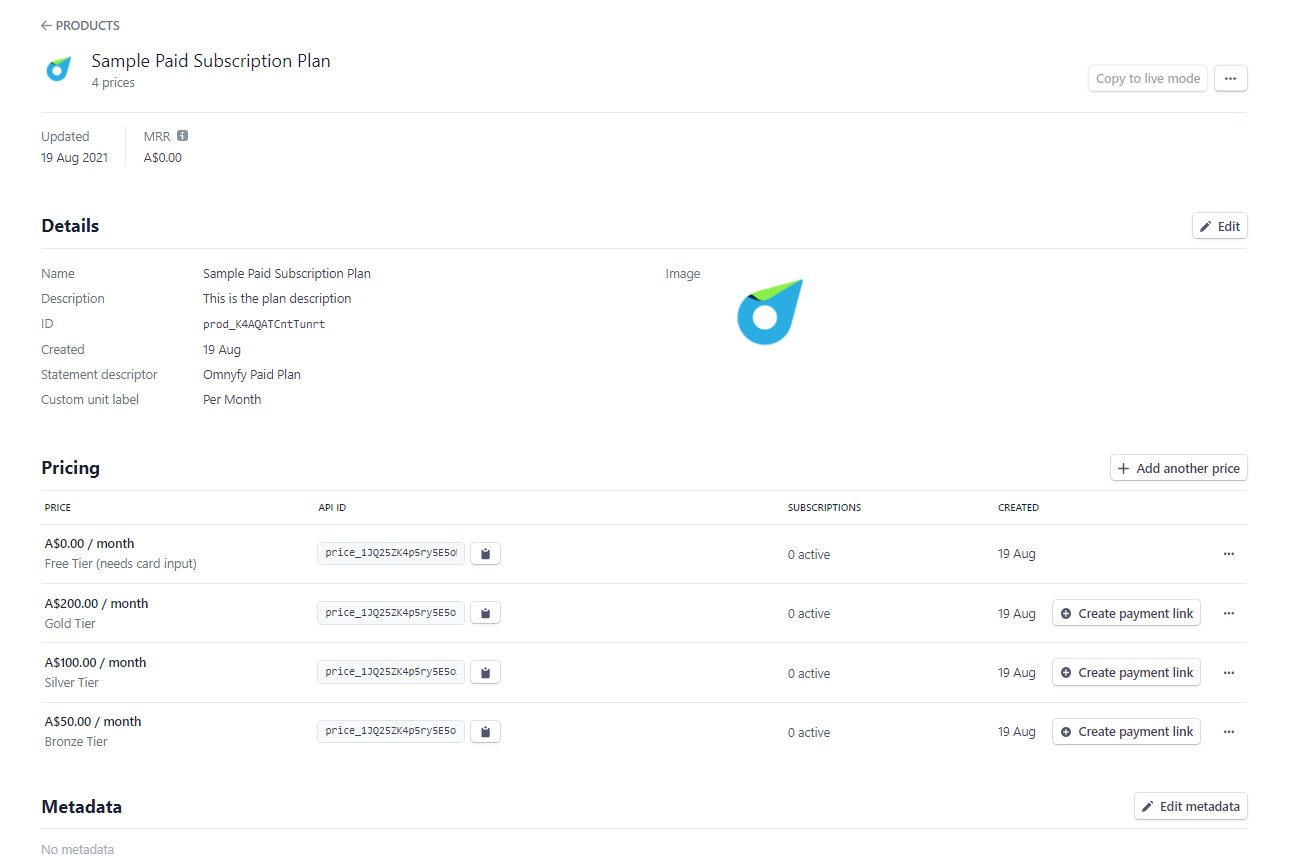 ---

IMPORTANT: Once the Product is created, you can then go back to the product to see the pricing details in future. Each pricing for the product will generate an API ID. This pricing API ID will be copied and pasted into the same Subscription Product created in Omnyfy for Gateway ID. A

dditional pricing plans can be added for the product by selecting

Add another price

. L

ogs

display the API calls used to create the products and pricing plans. Clicking the logs will display the Request and Response.