Basic Configuration - Vendor Search
Omnyfy supports a configurable Vendor Search page that supports multiple search types with faceted, filterable navigation.
Default URL:
The Default URL of the search page is as follows:
[marketplace URL]/vendorsearch/result/index/
---
Vendor Search Configurations
Vendor search configurations can be found in Store > Configuration > Omnyfy > Vendor Search

​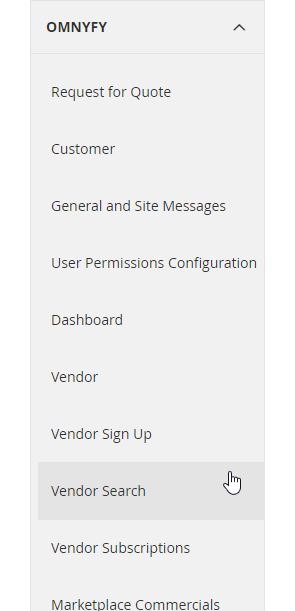 1. Vendor Search
---
2. Vendor Search Results Page
Related Articles

Basic Configuration - Vendor Configurations

Vendor Configurations Follow the process below to configure your marketplace using the Omnyfy Platform. Note that the configurations here may change depending on the nature of the marketplace that you are looking to create. The configurations below ...

Basic Configuration - Theme Configuration

Configuring the theme Ensure that you have already configured to use Smartwave Porto (or whichever you are using under the Content > Design > Configuration). You can revisit this from Step 3 - Basic Configuration - Setting the Theme. In our example, ...

Basic Configuration - Vendor/Product/Content Preparation

At this point, the marketplace default configurations should already be finalised. Now you can begin to specify the various settings and attributes for Vendors and Products, so you can add content to the marketplace. Here are the following places to ...

Basic Configuration - Other Vendor Configurations

These are the remaining default steps in setting up a marketplace. These can all be found in Stores > Settings > Configuration > Omnyfy. Vendor Subscriptions The configurations available for the Vendor subscriptions apply to the setting of the email ...

Basic Configuration - Stripe linking for Vendor Payout

Vendor Payout Linking Once you have done that, you will need to now configure the Client ID. To get the Client ID information, you will need to go to Stripe and ensure your account is activated. If not, you can only connect with Test Mode. Within ...